Together with E-Med, the online medicine consultants, Midlands Diving Chamber provides scuba divers with a number of useful travel medicine services:
Pre-Travel & Post-Travel medical Advice
A comprehensive travel medical service including:
Pre travel consultation: on how to stay healthy abroad
Post travel consultation: if you are unwell on your return or just require a check up to make sure
E-mail support whilst abroad should you need some advice, diagnosis or even a prescription
For more details click here to visit the e-med website
Anti-Malarial Advice Online
Order your anti-malarial medication online from e-med, with free delivery the next day, to anywhere in the UK.
If you don't know which anti-malarial medications you need for the country you are visiting please use our Free Travel Information Service.
Medipac – Travel First Aid Pack
If you are going to a remote part of the world,or travel frequently on business, finding a good doctor abroad can be a problem,as can the language barrier so why not take an e-med medipac?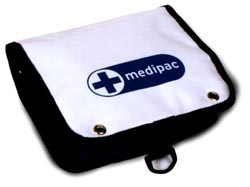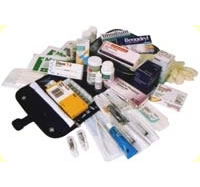 This is a medical pack containing all the necessary items to treat illnesses abroad. It comes with e-med membership for a year. So you are never far from medical advice by e-mail or phone, wherever you go.
Why is the Medipac so useful?
It provides a collection of highly useful medications to treat most of the illnesses you may get when traveling abroad
Immediate access to medication when you are sick
You may not be able to get hold of sterile needles and syringes when you are abroad
Access to a UK doctor online
The dressings will prevent any wounds from becoming infected
Includes waterproof dressings for divers
The Medicpac contains:
Prescription-only medication
Sterile dressings
Many other useful items that can save your trip from disaster
For more details and to order a medipac, visit the e-med website